Fuse Alpha BMX Rukavice (XL|Černá)
Remaining to get a free delivery
168 EUR
Description and dimensions
Reviews
Diskuze
Description and dimensions
Rider gloves for enhanced control and added safety
The Alpha Fuse BMX gloves are designed to protect your palms against crashes while providing you with lots of bar-grip for increased control. They're inspired by the classic Fuse BMX gloves but features a slimmer fit, stronger materials, and a reinforced thumb area.
Technical features
Micro-fiber thumb design, allowing you to wipe away sweat
Silicone area on brake fingers (index and middle) for an enhanced pull
Adjustable velcro wrist strap for a custom fit
Slim fit with vent holes for added freedom of movement and breathability
Protect your hands against cold weather and crashes with its synthetic leather design
Stretchable gloves thanks to its 2-way fabric construction
Materials
Palm: Synthetic leather
Upper: 2-way mesh material + twill fabric
Reviews
0  Review  "Fuse Alpha BMX Rukavice (XL|Černá)"
Diskuze k produktu Fuse Alpha BMX Rukavice (XL|Černá)
Máte k produktu dotaz? Zeptejte se nás.
Naposledy navštívené
Fuse Alpha BMX Rukavice (XL|Černá)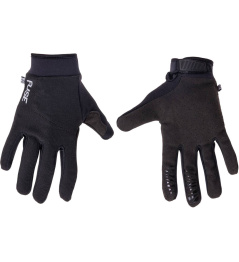 News
Rider gloves for enhanced control and added safety The Alpha Fuse BMX gloves are designed to protec
Fuse Alpha BMX Rukavice (XL|Černá)
Add a review to
Fuse Alpha BMX Rukavice (XL|Černá)