Fuse Omega Rukavice (XL|Sonar)
Remaining to get a free delivery
170.07 EUR
Description and dimensions
Reviews
Diskuze
Description and dimensions
Comfortable and flexible BMX gloves in a clean design
The Omega gloves are heavily inspired by Fuse's popular and successful Omega pad line. As the pad line don't offer a pair of rider gloves, the guys at Fuse decided to take the Omega pads and turn them into a pair of fully-functional BMX gloves.
Technical features
Slim fit with a clean strapless pull-tab design
Reinforced on top index and thumb fingers for increased durability and a great pull
Micro-fiber thumb design, allowing you to wipe away sweat
Stay fresh all session long thanks to its breathable vent holes
Materials
Palm: Synthetic leather
Upper: Polyester + PU fabric
Reviews
0  Review  "Fuse Omega Rukavice (XL|Sonar)"
Diskuze k produktu Fuse Omega Rukavice (XL|Sonar)
Máte k produktu dotaz? Zeptejte se nás.
Naposledy navštívené
Fuse Omega Rukavice (XL|Sonar)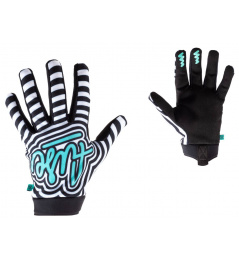 News
Comfortable and flexible BMX gloves in a clean design The Omega gloves are heavily inspired by Fuse
Fuse Omega Rukavice (XL|Sonar)
Add a review to
Fuse Omega Rukavice (XL|Sonar)