Retrospec Nano SL 8' Inflatable Paddle Board (Starfish)
Remaining to get a free delivery
170.07 EUR
Description and dimensions
Reviews
Diskuze
Description and dimensions
Complete iSUP set for smaller adventurers
The Nano SL (Single Layer) 8' is the most compact board in Retrospecs line-up and is designed with smaller adventurers with a max weight on 140lbs in mind. It's a beginner-friendly all-around SUP package with everything you need to go to the waters and stay there for hours. The wide and rounded shape makes it stable and easier to step onto, and the reinforced carry handle in the middle makes it convenient to transport - even for smaller fellas.
Technical features
Made from super solid military-grade Singel layer PVC materials
Constructed with dropstitch technology to securely fuse the top and bottom together
EVA-foam padded surface for a comfortable and slip-free stance - even when it's wet
Adjustable 3'-8' paddle in a convenient 3-piece quick-release design, made from light aluminum

Includes

1x inflatable Nano 8' SUP
1x paddle in an adjustable 3-piece design
1x waterproof cellphone case
1x manual air pump with gauge
1x bag to carry it all in
3x removable fins
Reviews
0  Review  "Retrospec Nano SL 8' Inflatable Paddle Board (Starfish)"
Diskuze k produktu Retrospec Nano SL 8' Inflatable Paddle Board (Starfish)
Máte k produktu dotaz? Zeptejte se nás.
Naposledy navštívené
Retrospec Nano SL 8' Inflatable Paddle Board (Starfish)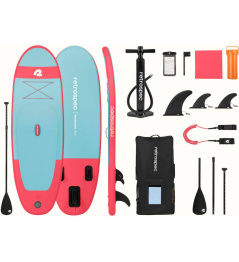 News
Complete iSUP set for smaller adventurers The Nano SL (Single Layer) 8' is the most compact bo
Retrospec Nano SL 8' Inflatable Paddle Board (Starfish)
Add a review to
Retrospec Nano SL 8' Inflatable Paddle Board (Starfish)