Remaining to get a free delivery
169.71 EUR
Description and dimensions
Reviews
Diskuze
Description and dimensions
Get your GlueFix right here from Kitefix
Bespoke glue for fixing almost all surf kites on the market. Fast-drying, ultra-resistant, and flexible, the GluFix will help you make lasting and permanent repairs on your kite-equipment.
Combine it with FiberFix to repair tears up to 48'' (121.9cm) long
1oz (28.35gr) GlueFix tubes
Reviews
0  Review  "Kitefix GlueFix (1 Pack)"
Diskuze k produktu Kitefix GlueFix (1 Pack)
Máte k produktu dotaz? Zeptejte se nás.
Naposledy navštívené
Kitefix GlueFix (1 Pack)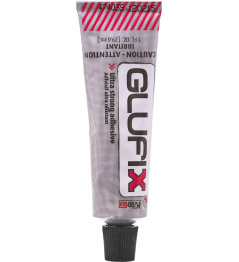 News
Get your GlueFix right here from Kitefix Bespoke glue for fixing almost all surf kites on the marke
Add a review to
Kitefix GlueFix (1 Pack)