Kitefix Kompletní Kitesurf Repair Kit
Remaining to get a free delivery
169.17 EUR
Description and dimensions
Reviews
Diskuze
Description and dimensions
Emergency Kit for any kitesurfer with all you need to fix a torn kite
Whether you have torn the kite, the bladder, or the leading edge, you will find the tools in this Kitefix Complete Repair Kit. Fix up to 8 feet of the canopy with matching colors or up to 6 feet of leading-edge or strut. Leaving home without it may cause a premature exit from a perfect session so remember to bring it along.
Included:
2 x GluFix tubes 1oz (28.35gr)
2 x self-adhesive 4' (1.2 meters) Dacron rolls
7 x FiberFix multi-color 4' (1.2 meters) tapes
1 x Ultra-adhesive bladder patch 4'' (10.2cm) x 9'' (22.9cm)
1 x Talkine bottle 3oz (85.05gr)
1 x GluFix applicator
8 x alcohol swabs
3 x tie raps
1 x detailed instructional user's guide
1 x pair of scissors
1 x marker
1 x plastic bag
1 x Kitefix 'lost board' sticker
Reviews
0  Review  "Kitefix Kompletní Kitesurf Repair Kit"
Diskuze k produktu Kitefix Kompletní Kitesurf Repair Kit
Máte k produktu dotaz? Zeptejte se nás.
Naposledy navštívené
Kitefix Kompletní Kitesurf Repair Kit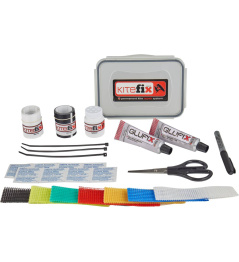 News
Emergency Kit for any kitesurfer with all you need to fix a torn kite Whether you have torn the kit
Kitefix Kompletní Kitesurf Repair Kit
Add a review to
Kitefix Kompletní Kitesurf Repair Kit