Kitefix School Kite Repair Toolbox
Remaining to get a free delivery
169.71 EUR
Description and dimensions
Reviews
Diskuze
Description and dimensions
Fix a lot of kites? Then grab yourself this massive kit containing all you could desire to fix kites
Intended for use by shops and Kitesurfing schools, is this kite repair toolbox, loaded with components that will help you make strong and lasting fixes to the canopy, bladders, valves, etc. All bundled up in a practical toolbox, ensuring you have all you need at hand.
Included in the kit:
12 x 1oz (28.35gr) Tubes of GluFix
5 x Multi-colored FiberFix

Each with 7 different colored strips
1'' (2.5cm) wide x 48'' (121.9cm) long

5 x GluFix Applicators
11 x Self Adhesive Dacron Strips at 48" long​​

2 Black
2 White
1 Red
1 Blue
1 Green
1 Yellow
1 Fluo Pink
1 Grey
1 Fluo Orange

4 x Ultra-Adhesive MONSTER Bladder Patches 9'' (22.9cm) x 12'' (30.5cm)
48 x Alcohol Swabs
10 x Tie Raps
1 x Roll of String for Pulling Bladders
1 x 4' (121.9cm)length of spectra for pigtails or bridal repairs
1 x Instruction manual
1 x Scissors
1 x Roll of Painters Tape
1 x DVD with Tutorial Videos
Reviews
0  Review  "Kitefix School Kite Repair Toolbox"
Diskuze k produktu Kitefix School Kite Repair Toolbox
Máte k produktu dotaz? Zeptejte se nás.
Naposledy navštívené
Kitefix School Kite Repair Toolbox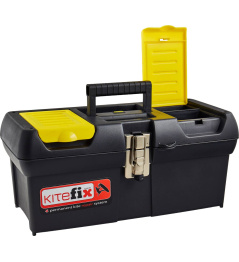 News
Fix a lot of kites? Then grab yourself this massive kit containing all you could desire to fix kites
Kitefix School Kite Repair Toolbox
Add a review to
Kitefix School Kite Repair Toolbox