Retrospec Weekender SL 10' Inflatable Paddleboard (Wild Spurce)
Remaining to get a free delivery
170.29 EUR
When am I going to receive the goods if I order now?
Shop Hradec Králové, Czech Republic
6-12 working days
Description and dimensions
Reviews
Diskuze
Description and dimensions
Complete SUP set with a wide and beginner-friendly board
The Weekender SL (Single Layer) 10' Inflatable Paddle Board is a complete stand-up paddleboard package with everything you need to go out on the water and stay there for hours.
The board is made wider than most others in order to add stability and make it easier to balance on. It's designed for all-around paddling and is highly suitable for beginners.
The board comes in an inflatable design and the paddle can be split into 3 pieces, making the whole set very handy for storage and transportation.
Technical features
Made from super solid Armor Strength PVC materials
Constructed with dropstitch technology to securely fuse the top and bottom together
EVA-foam padded surface for a comfortable and slip-free stance - even when it's wet
Adjustable 3'-8' paddle in a convenient 3-piece quick-release design, made from light aluminum
Includes
1x inflatable Weekender 10' SUP
1x paddle in an adjustable 3-piece design
1x waterproof cellphone case
1x bag to carry it all in
1x surf leash
3x removable fins
Reviews
0  Review  "Retrospec Weekender SL 10' Inflatable Paddleboard (Wild Spurce)"
Diskuze k produktu Retrospec Weekender SL 10' Inflatable Paddleboard (Wild Spurce)
Máte k produktu dotaz? Zeptejte se nás.
Naposledy navštívené
Retrospec Weekender SL 10' Inflatable Paddleboard (Wild Spurce)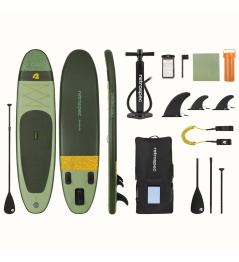 News
Complete SUP set with a wide and beginner-friendly board The Weekender SL (Single Layer) 10' Inflata
Retrospec Weekender SL 10' Inflatable Paddleboard (Wild Spurce)
Add a review to
Retrospec Weekender SL 10' Inflatable Paddleboard (Wild Spurce)