Boom Solid Knee Pads Black/Silver L
Remaining to get a free delivery
170.29 EUR
Description and dimensions
Related products
Reviews
Diskuze
Description and dimensions
Boom is a Latvian brand focused on the production of perfect protectors at super prices . The package includes knee pads that fit almost anyone.
These protectors are made of high-quality and durable materials that are highly resistant to wear and abrasion. The protectors are padded on the inside so that they are comfortable even after a long ride. The top of the protector or the sliding surface on the protectors is in the form of hardened plastic and thanks to the opposite rivets with rings, these protectors are suitable for the skatepark , on the street even on ramps. The protectors will stay on you thanks to one elastic strap at the top and one at the bottom.
If you're looking for good protectors for super money , you're in the right place!
Size chart:
Reviews
0  Review  "Boom Solid Knee Pads Black/Silver L"
Diskuze k produktu Boom Solid Knee Pads Black/Silver L
Máte k produktu dotaz? Zeptejte se nás.
Naposledy navštívené
Boom Solid Knee Pads Black/Silver L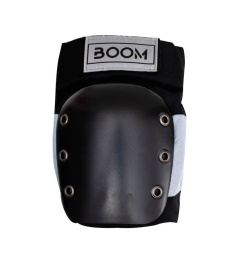 Special offer
Boom Solid Knee Pads Black/Silver L
Add a review to
Boom Solid Knee Pads Black/Silver L