Colony Grip Lock 20" BMX Tire (2.35"|Black)
Remaining to get a free delivery
163.77 EUR
Description and dimensions
Reviews
Diskuze
Description and dimensions
Colony Grip Lock is a powerful BMX tire designed for freestyle riding. If you like riding on the street and in the skatepark, a 2.2 or 2.35" wide tire is a great choice for you. In addition, the tire can withstand pressure up to 110psi, making it ideal for performing various spin tricks.
The smooth tread provides both speed and optimal traction on dry surfaces
Reinforcement of the sidewall of the casing ensures much greater resistance
Made from a durable rubber compound that gives you excellent grip and a softer landing.
Please note : This Colony BMX tire is compatible with bikes that are designed for tire widths up to 2.2" or 2.35".
Reviews
0  Review  "Colony Grip Lock 20" BMX Tire (2.35"|Black)"
Diskuze k produktu Colony Grip Lock 20" BMX Tire (2.35"|Black)
Máte k produktu dotaz? Zeptejte se nás.
Naposledy navštívené
Colony Grip Lock 20" BMX Tire (2.35"|Black)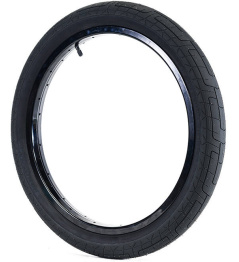 Colony Grip Lock is a powerful BMX tire designed for freestyle riding. If you like riding on the str
Colony Grip Lock 20" BMX Tire (2.35"|Black)
Add a review to
Colony Grip Lock 20" BMX Tire (2.35"|Black)