Colony Pintour 20" Front BMX Wheel (Black)
Remaining to get a free delivery
164.07 EUR
Description and dimensions
Reviews
Diskuze
Description and dimensions
This is the Colony Pintour 20" front wheel for freestyle BMX bikes. With the double-walled rim on the Pintour 20", Colony strived to provide a stiff yet light bike so riders can perform tricks and jumps without easily bending the rims. Sealed bearings are low maintenance and dirt resistant, making this Colony front wheel ideal for outdoor use.
Don't forget to check that the 10mm axle diameter matches your pegs.
The package includes hub protectors, so-called hub guards so you can do all the grind tricks without worrying about damaging the hub.
The rim is made of light and strong aluminum 6061-T6.
Includes a strap on the rim, thanks to which the tube can be put on immediately.
Reviews
0  Review  "Colony Pintour 20" Front BMX Wheel (Black)"
Diskuze k produktu Colony Pintour 20" Front BMX Wheel (Black)
Máte k produktu dotaz? Zeptejte se nás.
Naposledy navštívené
Colony Pintour 20" Front BMX Wheel (Black)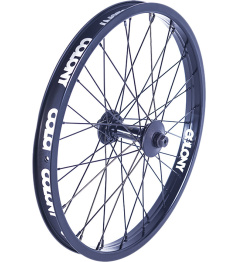 This is the Colony Pintour 20" front wheel for freestyle BMX bikes. With the double-walled rim on th
Colony Pintour 20" Front BMX Wheel (Black)
Add a review to
Colony Pintour 20" Front BMX Wheel (Black)