Division Fat Combo BMX Saddle (Myra)
Remaining to get a free delivery
163.5 EUR
Description and dimensions
Reviews
Diskuze
Description and dimensions
This is a combo BMX saddle from Division for freestyle bikes and offers a great price/performance ratio. On Combo models, the saddle is permanently attached to the seatpost, giving you a lightweight and easy-to-install one-piece design. Extra thick padding on the seats provides maximum comfort when you squeeze the seat between your thighs during bar spins or no-hand tricks. In addition, the saddle is covered with strong and durable Kevlar material for increased durability.
Weighing only 354g, this BMX saddle from Division won't be a big burden on your bike
Reviews
0  Review  "Division Fat Combo BMX Saddle (Myra)"
Diskuze k produktu Division Fat Combo BMX Saddle (Myra)
Máte k produktu dotaz? Zeptejte se nás.
Naposledy navštívené
Division Fat Combo BMX Saddle (Myra)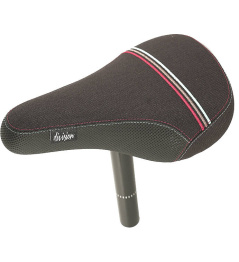 This is a combo BMX saddle from Division for freestyle bikes and offers a great price/performance ra
Division Fat Combo BMX Saddle (Myra)
Add a review to
Division Fat Combo BMX Saddle (Myra)