Powerslide Imperial Basic 80 in-line skates
Remaining to get a free delivery
155.37 EUR
Description and dimensions
Related products
Reviews
Description and dimensions
Model Powerslide Imeprial Basic 80 využívá novou generaci měkkých bot, která je pevnější než kdy dříve byla, ale zároveň více pohodlná, jelikož využívá poslední generaci paměťové pěny pro co největší pohodlí. Díky technologii My Fit je možné vnitřek boty tepelně nahřát a upravit, tak aby pasovala přesně na Vaši nohu.
Botička využívá novou technologii Recall Fit, která po nahřátí drží svůj tvar a je možné tento proces opakovat. Brusle jsou usazeny na rámu Gamma, který je 9,6 (243mm) palců dlouhý a využívá uchycení pomocí 2 šroubů.
Model pohání kola Hurricane 80mm s tvrdostí 85A. Kolečkové brusle Powerslide Imeprial Basic 80 jsou vybaveny ložisky Wicked řady ABEC 7. Mají pevnou ocelovou klec a 7 ocelových kuliček, které jsou dokonale upraveny, tak aby zaručily nejlehčí točivost.
Skelet Kompozitový zesílený plast
Botička MY FIT Fat Boy Recall liner, Dual Fit
Podvozek Powerslide Gamma, materiál Aluminium
Délka rámu 9.6" Montážní rozteč 165mm
Kolečka Powerslide Hurricane, Bullet
Velikost koleček 80mm Tvrdost koleček 85A
Ložiska Powerslide Wicked 7
Maximální nosnost 100kg
| | |
| --- | --- |
| Wheel size | 80 mm |
| Bearings | ABEC 7 |
| Hardness of the wheel | 85 |
| Wheel material | cloak |
| Color | černá |
| Color | červená |
Related products
Powerslide Imperial Megacruiser 125 Pink in-line skates
Velikost koleček: 125mm. Ložiska: ABEC 9.
Powerslide inline skates FSK Metropolis 80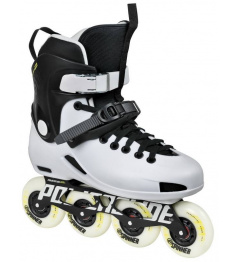 Velikost koleček: 80mm. Ložiska: ABEC 7.
Powerslide Ultron in-line skates
Nový model freeskate bruslí - Powerslide FSK Ultron. Nové 3D anatomické vnitřní polstrování v obla
Powerslide S4 in-line skates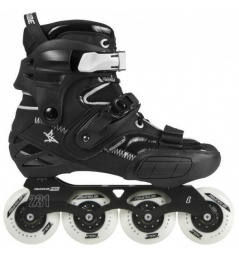 Powerslide Kaze 80 Trinity in-line skates
Velikost koleček: 80mm. Ložiska: ABEC 9.
Reviews
0  Review  "Powerslide Imperial Basic 80 in-line skates"
Powerslide Imperial Basic 80 in-line skates
Add a review to
Powerslide Imperial Basic 80 in-line skates