Salt Plus HQ 2-Piece BMX Handlebar (10"|Black Ed)
Remaining to get a free delivery
170.29 EUR
Description and dimensions
Reviews
Diskuze
Description and dimensions
Salt Plus HQ are powerful handlebars designed for freestyle BMX bikes. These are very durable handlebars that are made of crmo steel 4130 (chromoly), which guarantees a very strong and light handlebar. The two-piece tube construction gives these Salt handlebars a clean and classic look. Due to the 30" width, these handlebars will be suitable for riders with broad shoulders. The standard stem diameter of 22.2mm fits all sockets of the same size. To meet the demands of technical riders for handlebars that are both durable and light, the tubes of this model have been reinforced.
Don't forget to choose a handlebar height that suits your preferences:
The 10" handlebars are a good choice if you are tall or if you have problems with your posture when riding a bike.
Reviews
0  Review  "Salt Plus HQ 2-Piece BMX Handlebar (10"|Black Ed)"
Diskuze k produktu Salt Plus HQ 2-Piece BMX Handlebar (10"|Black Ed)
Máte k produktu dotaz? Zeptejte se nás.
Naposledy navštívené
Salt Plus HQ 2-Piece BMX Handlebar (10"|Black Ed)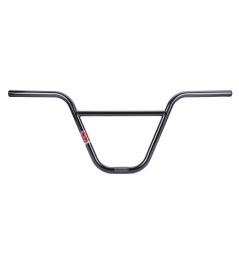 News
Salt Plus HQ are powerful handlebars designed for freestyle BMX bikes. These are very durable handle
Salt Plus HQ 2-Piece BMX Handlebar (10"|Black Ed)
Add a review to
Salt Plus HQ 2-Piece BMX Handlebar (10"|Black Ed)