Salt Valon BMX Rim (20"|Red)
Remaining to get a free delivery
169.71 EUR
Description and dimensions
Reviews
Diskuze
Description and dimensions
Lace-up the light Valon rim and throw it on your custom
The Valon BMX Rim by Salt is meant for freestyle riders, for street as well as park riding. It comes with thicker sidewalls in order to withstand the abuse you'll put it through.
Technical features
Made 100% from 6061-T6 alloy - light and durable
Strong and reinforced single wall design
Wide 36mm profile, suitable for fat 2.4" tires
1 x piece of protective rim tape included
Reviews
0  Review  "Salt Valon BMX Rim (20"|Red)"
Diskuze k produktu Salt Valon BMX Rim (20"|Red)
Máte k produktu dotaz? Zeptejte se nás.
Naposledy navštívené
Salt Valon BMX Rim (20"|Red)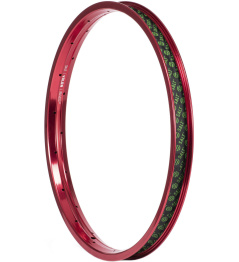 News
Lace-up the light Valon rim and throw it on your custom The Valon BMX Rim by Salt is meant for frees
Salt Valon BMX Rim (20"|Red)
Add a review to
Salt Valon BMX Rim (20"|Red)